Hike the seashore from one hut to the next
Take it all in
Experience Tamsøya and its varied and magical nature. Cliffs, colourful vegetation, the ripples of the waves on the beach, seagulls calling and the wind in your hair. This is a two-day hike suitable for parties of 2-4. Spend the night on the south, west  and northeast end of the island in charming huts with great views. Get a close-up look at seals and otters, walk among the spectacular bird life, and breathe in the pure air this Porsanger fjord pearl has to offer. If you want to experience a break from the stresses of civilization and exchange it for the serenity of the wild, this trip is perfect for you.
Expressed best by one of our customers: "we will surely talk about this Finnmark trip as long as our memories stay intact. Nature so mighty it almost took our breaths away(…)
Do you want more info and pricing? Download PDF file further down the page.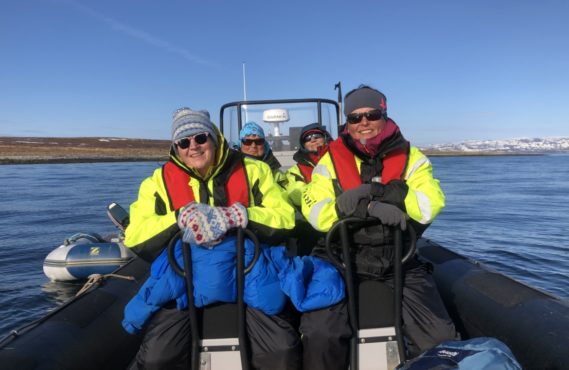 Happy group of friends
RIB trip – one of the many highlights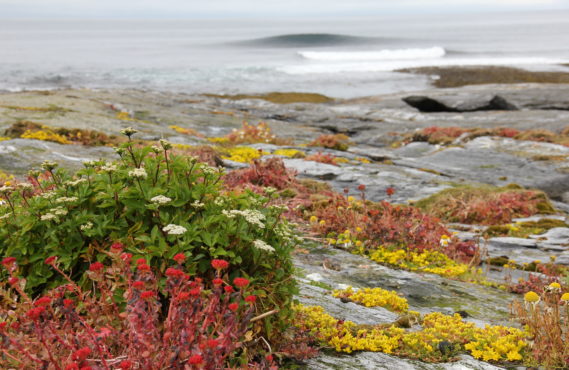 Colourful vegetation
The resilience of plants and nature is truly fascinating. They claw onto and between rocks and cliffs, where-ever they can find sustenance.  Many herbs reside on the island, and most of them are edible.
Roche moutonnée
The majority of the shoreline consists of roches that are easy to walk on. The rock formations and vegetation vary throughout the island, so there's always something new to see around the next bend.
"Klubbkeila"
This is a roche formation on the northern side that the children used to bathe and swim in and around back when the island was permanently inhabited.
Told to Anne by Marie Nilsen,  a 85 year-old lady who lived her first 16 years on the island.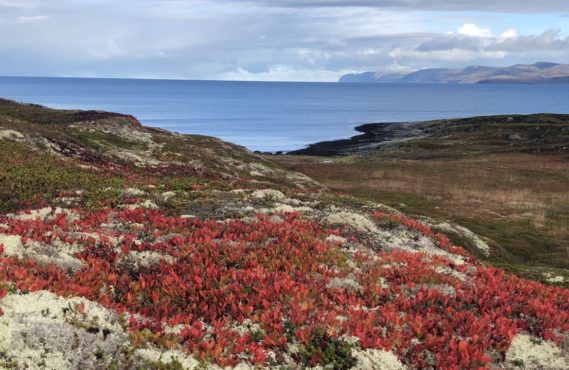 Shades of autumn
Stunning autumn colours cover the island in September, with the white caldonia contrasting the vibrant reds and oranges.
Pebble beach in the midnight sun
One of the biggest pebble beaches is located in Hellemolla. Paired with cliffs, making this a truly special place.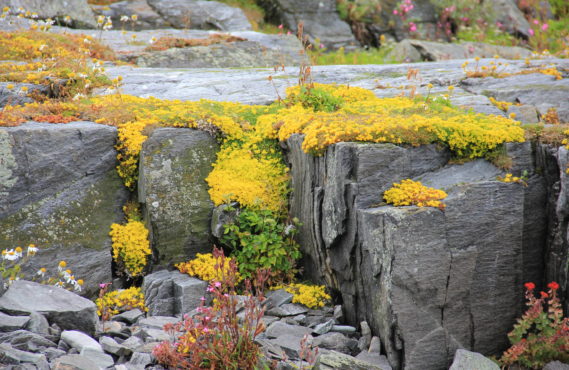 Impressions
There are many photographable scenes all along the route.
Photo: Erica Haugli
"Hellemolla"
On the west end there is an abundance of cliffs and rock formations.
Happy group of friends
After spending 2 days hiking the shoreline, these ladies are happy and getting ready for the ride home.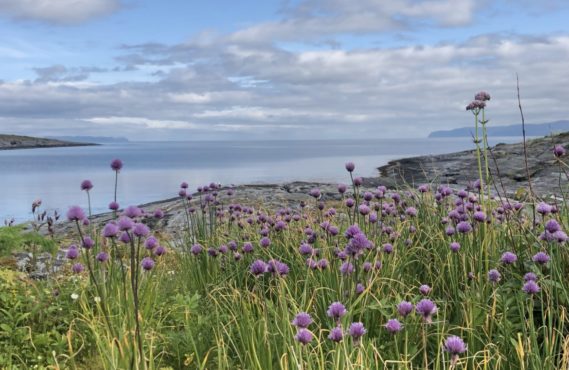 Chives in "Kobbevika"
The north end is particularly lush, here evident by the abundance of wild chives.